New features for DroneDeploy software
Drone software company, DroneDeploy has released new software for its cloud applications. You can check them out below
Automatically sending project reports within the organisational GIS platform
DroneDeploy says its majority of clientele usually has diverse teams working in a variety of other platforms or geographic locations, and communication and collaboration – while using the latest site data – is key to the success of their business dealings, client transparency, and customer retention. Keeping data siloed or having the inability to visualize different geospatial datasets together hinders efficiency, reduces data visibility for critical site projects, and could ultimately drive down revenue.
But now the company is making it as easy as possible to create and send project reports, bring geospatial datasets into DroneDeploy, and automatically view all maps within the organisation's GIS platform.
Enhanced Progress Reports
With DroneDeploy's enhanced Progress Report, The new enhanced, Progress Report feature allows a user to give team members a full view of a project and share visual project documentation in one, easy-to-send report that can be generated with just a few clicks.  
This customizable report can include maps, panoramas, videos, and photos of a project on a specific date, all with editable captions. You can email the report directly, download it as a PDF, or invite users to view it within the DroneDeploy app.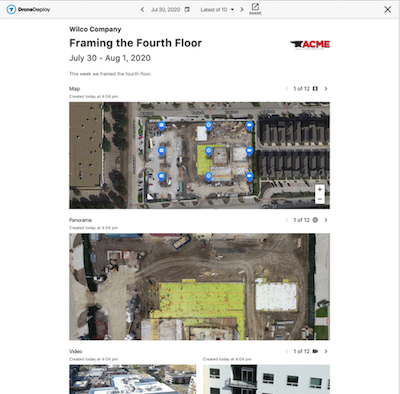 Says the company; "You no longer have to spend hours creating a custom report to share. Drone data has the power to transform the bid process, project documentation, inspection, and planning, but none of this data is valuable if it doesn't go to the right people – a client, owner, engineer, analyst, or executive. Now, we're making it easy to show progress and build trust with everyone involved."
Custom Web Layer Overlays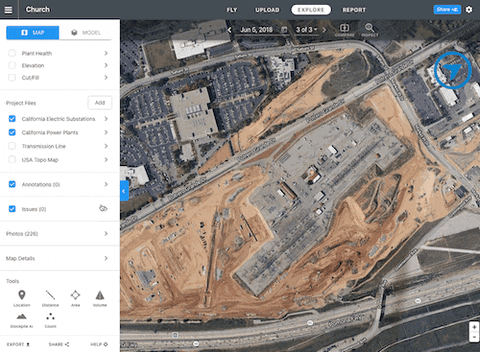 When planning missions or analyzing data, it's often difficult to truly understand the site without additional geographical context. When conducting a site survey, a drone map is more valuable to a surveyor when viewed with a contour map, just as a stand of timber is more easily analyzed overlaid with the original planting boundary. Now, within DroneDeploy, you can view custom map layers such as pipeline locations, field boundaries, property lines, and more. Having the ability to bring in custom layers with a web layer URL ensures you have essential and up-to-date information when making site decisions.
Esri (WMTS) Integration – Now GA
With the new Esri integration, DroneDeploy will automatically serve all of your organization's maps to your ArcGIS instance. This integration ensures that everyone in your organization is equipped with the latest high-resolution DroneDeploy maps – bringing not just discernibility into the innovations of your drone program but also driving unprecedented visibility into your projects and assets.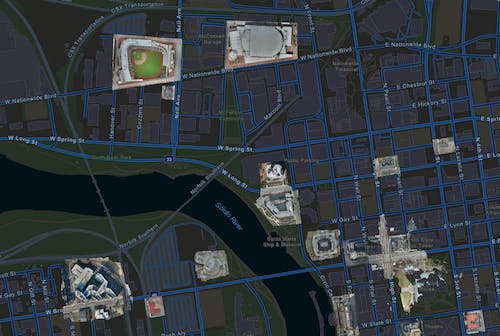 The feature has been introduced as a response to customers that they complained have had to build and maintain their own imagery pipelines, dedicated servers to host that imagery, and have lost countless hours to manual, inefficient export processes. This integration is available as an out-of-the-box solution, intended to enable teams to get access to the data they need to perform at optimal efficiency.
"We've seen companies use this integration for a variety of use cases, ranging from monitoring inventory in equipment yards, providing site documentation in the reclamation process, and even removing the need for costly satellite imagery subscriptions by providing a visualization of site changes. Ultimately, connecting your GIS solution with DroneDeploy's timely, high-quality, high-resolution aerial imagery ensures you and your team have the latest site data where and when you need it."
Complete Mission Control – Flight
and Operations in One Solution
The mission control centre has been enhanced with real-time response and analytics, paired with airspace authorisation and increased flight functionality, to make it an end-to-end mission control solution for any operation.
With DroneDeploy's Mission planning, I can capture a map, pano, video, and progress photos in one flight, spending 40% less time on-site. I can now fly one extra site a day in the same amount of time using the same battery life.

Matt Czuzak, Senior Virtual Construction Manager, Core Construction
LAANC Authorization in Partnership with Airbus UTM
For any drone pilot or program manager, it's critical you're flying in compliance with airspace regulations at all times. Now, pilots will be able to seamlessly plan flights, apply for, and manage LAANC authorization with Airbus UTM ahead of time or on-site, all within the DroneDeploy flight application. This direct integration of flight management, safety, and regulatory compliance services helps ensure safe and efficient drone operation in national airspaces.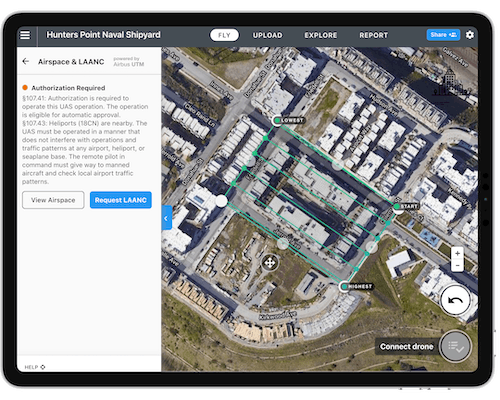 Before you fly, pilots can check airspace to understand flight restrictions in any given project area. This allows you to plan accordingly by requesting FAA authorization up to 90 days in advance. With our Airbus UTM partnership, you can manage all project authorizations in the DroneDeploy platform, and automatically audit all LAANC authorizations for every flight to easily ensure program compliance.
At Airbus UTM, ensuring our future airspace remains as safe tomorrow as it is today is at the core of everything we do. That's why we're excited to partner with DroneDeploy to simplify the way drone pilots obtain the airspace information they need to ensure safe, efficient, and repeatable operations. By integrating our services directly into the DroneDeploy platform, pilots can seamlessly access preflight safety briefings, digital flight authorizations, and compliance data within seconds, all within the same application.

Joe Polastre, Head of UTM Product, Airbus
Skydio 2 Integration
DroneDeploy is now fully integrated with the Skydio 2 drone. This integration enables pilots to confidently avoid obstacles like cranes or oil wells while flying at low elevation. Easily capture images for close-up inspections of equipment buildings, all while automatically avoiding people and objects.
Skydio 2 Integration available on all paid plans.
Live Stream – Now GA
With DroneDeploy Live Stream, you no longer need to be on the scene to conduct site reconnaissance, address a critical issue, or communicate a project's progress. Live Stream allows pilots to provide real-time aerial video to decision-makers, response teams, and remote experts contributing to the situation at hand.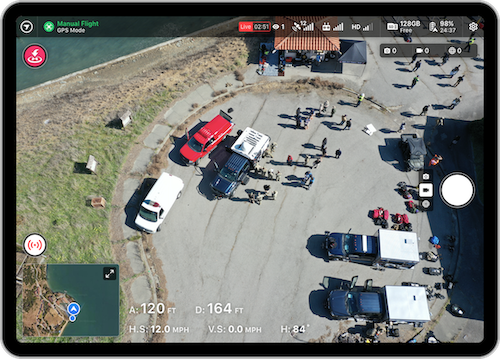 Live streaming data also decreases team travel to remote sites or fields, allows you to conduct critical infrastructure inspections from the office, and even wow clients from around the world by remotely broadcasting ribbon-cutting ceremonies.
Live Stream available on Enterprise.
DroneDeploy Live Stream allows us to bring the field anywhere. No travel is required to give the team a full understanding of new products coming to market.

Eric Galdi, Agronomy Systems Manager, Sales sUAS Trainer, Corteva Agriscience
Become Certified in DroneDeploy Academy
Pilots, admins, and analysts can now become DroneDeploy certified in DroneDeploy Academy. Live or online certification courses enable your team to maintain compliance standards, understand industry use cases, and train for Part 107 waivers.
DroneDeploy Certification available to all paid plans at additional cost.
Next Generation of Photogrammetry
With increased data accessibility and drone program growth, your data must be of the highest quality and accuracy. In addition to these July feature releases, Version 3 of DroneDeploy's photogrammetry engine extends our lead in the 3D quality and precision markets.
3D Quality & Precision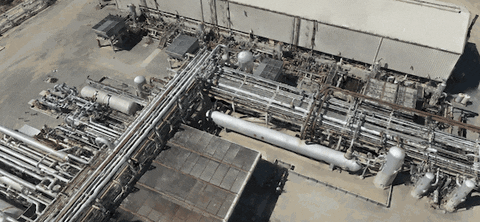 These now have increased 3D point cloud density by up to 50 percent, removed outliers, and further increased precision, resulting in crisper models of thin structures, pipelines, and building edges. At the same time, we've delivered all of this while increasing map processing speed by an additional 10 percent. DroneDeploy's cloud photogrammetry engine processes thousands of maps each day for our customers and is also available as a service via our API.
Live Map – Field Edge Processing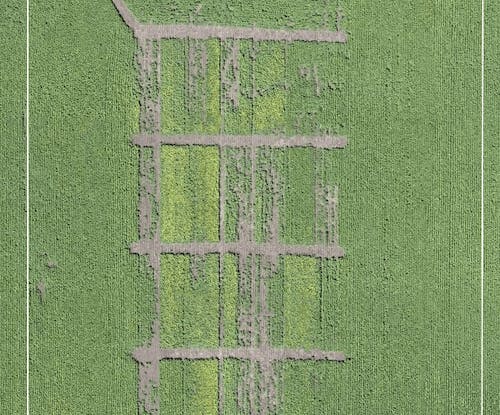 DroneDeploy have also made substantial improvements to their Live Map quality and reliability, particularly on the DJI Mavic 2 series. Field-edge crop health analysis on Live Map enables immediate feedback for agriculture professionals, while energy customers are running complex logistics on their Live Map data.